Pulling inspiration from her upbringing in the auto-manufacturing hub of Mid- Michigan and family weekends spent at Sebring International Raceway, Barrow focuses on the relationships that develop between people and cars.Her work layers images from vintage auto brochures, her own photographs, stencils, paint, mediums and sometimes auto parts.
Her work encourages a reflection upon your past. Memories of the first car you drove, the one you took to homecoming, the one you always wanted, the one you saw taking the checkered flag…these machines tell the story of one's life. Memories are passengers in our cars.
Barrow layers and scrapes clear mediums and paint, allowing chance to play an important role in her process. She combines the technology of digital photography and the broad strokes of the action painters to create her own digital expressionism.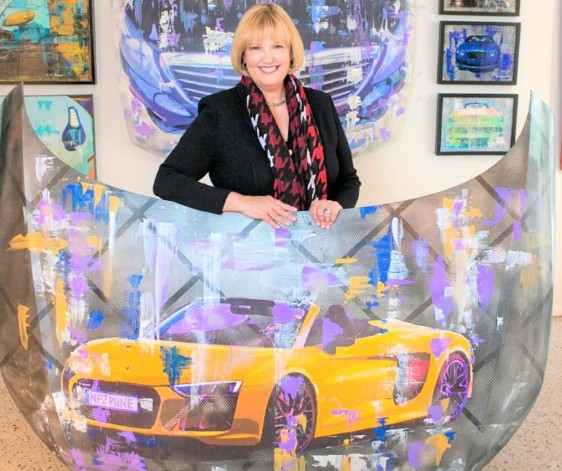 "Memories are passengers in our cars".
Driven By Karen Barrow with Jennifer Graylock & Karen Shapiro
Come join us reception night January 14th, 2021 5:30 p.m. – 8:30 p.m. at Naples Art 585 Park Street, Naples FL. 34102 Show runs through February 7th, 2021.